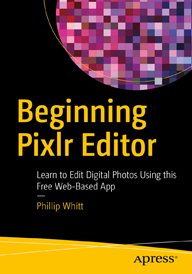 Finally, an easy to access alternative to Photoshop!
If you've had a desire to learn digital image editing without the steep learning curve (or ongoing subscription costs) of programs like Adobe Photoshop, then here is a viable alternative.

Beginning Pixlr Editor (a learning resource book by Apress Publishing) will show you how to harness the power of Pixlr Editor, the free online image editor by Autodesk.
Pixlr Editor works in your browser, so there's no software to purchase, download, or install! If you're a visual arts teacher or a curriculum director who's been searching for an economical way to introduce digital image editing to students, then this is the answer.
Here's what the reader will learn from Beginning Pixlr Editor:
Navigate the the Pixlr interface

Use the Tools, Layers, Image Adjustments, History
Create an new image, or open an image from your computer, a URL, or the Pixlr library

Save your images on to your computer or the Pixlr library, and much more
Note: Neither Apress Publishing nor the author are affiliated with Autodesk.